The Foundation
The Italian Association idea is born in November 2012, a young Italian expatriate had in mind a romantic weekend in East Coast, but at the last minute the girlfriend changed her mind! He had to revise his plans: the chalet was already booked (and paid), so why not ask to a group of Italian friends and acquaintances to join him and gather together for a BBQ party during all the weekend? Maybe it was not romantic, but new friendships were established.
The BBQ party was successful and the group of enthusiasts new friends decided to repeat it and organize other similar events as "Aperitivo" to offer an opportunity to Italians, either just arrived in Singapore or living here a growing community, and Singaporeans keen to know more about Italy and Italians to gather together in an informal way.
Since 2012 more than 15 BBQs have been organised and even more then 50 Aperitivo.
At the end of 2014 the idea of a more formal organization came up and, over friendly meeting at each other's home for an Italian dinner, brainstorming on how to set an 'Association' and its  activities quickly followed up. Other Italians were invited to join and bring their contribution of ideas and proposals, and in few months the idea was finalized: the Italian Association of Singapore was born! This happened in the 50th birthday of Singapore Republic. From 2015 the Italian Association also opened the Italian School of Singapore starting with Chinese and Italian language courses.
Follow the official logo at foundation of Italian Association of Singapore 2015 up to 2017 designed by Huang Eu Chai.


Follow the new 2018 Official Italian Association of Singapore logo, approved by Registrar of Societies of Singapore designed by Jacopo Artemio Morotti.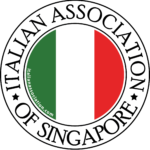 Credits
Thank you Alberto Forchielli, our Mentor; thank you Omar Bassalti, the mind and engine of the group; thank you Stefano Neri, for mediating the various different points of view; thank you Fabrizio Righi for your initiatives. Thank you Huang Eu Chai for the initial logo and the initial Association name; thank you Giorgia Brusadin for the patience to follow all the requests to modify the forms, the sketches, the stickers, the design of the cards; thank you Ludovica Girardo, Daniele Poli and Maurizio Castorina for your support; thank you Attilio Rapisarda for the legal matters, thank you Antonio Bottiani for your wise advices, thank you to all the people who contribute to this dream to come true.
Notable Founding Members
We report here the list of Notable Founding Members of Italian Association of Singapore. In April 2015 a big group of Italians and Singaporean citizens founded the Association providing a symbolic amount of money. This is done for the glory and for the future of Italian community in Singapore … long life to the Italian Association of Singapore.
Alberto Forchielli
Alessandro Buti
Alessia Sprocatti
Antonio Bottiani
Antonio Piscitelli
Andrew Singleton
Attilio Rapisarda
Claudio Checchia
Daniele Poli
Danny Bulgarelli
Davide Bonomi
Eu Chai Huang
Fabrizio Righi
Francesco Sorrentino
Giorgia Brusadin
Lino Sauro
Lorenzo Facibeni
Ludovica Girardo
Marco De Rossi
Mario Ricco
Massimiliano Di Venanzio
Maurizio Castorina
Nina Izett
Omar Bassalti
Paolo Profaizer
Perla Valtulina
Roberto Carfagno
Salvatore Rosario Taormina
Saverio Busato
Sergio Ruocco
Simone Tarabusi
Soon Teck Choo
Stefano Neri
Stefano Mancini
Valentina Sanna
Vincenzo De Laurentiis
Presidents, Treasurers and Secretaries by time
2015 P Stefano Neri, T Ludovica Girardo, S Fabrizio Righi
2016 P Omar Bassalti, T Ludovica Girardo, S Maurizio Castorina
2017 P Omar Bassalti, T Alessia Sprocatti, S Maurizio Castorina
2018 P Omar Bassalti, T Alessia Sprocatti, S Maurizio Castorina
2019 P Omar Bassalti, T Ludovica Girardo, S Fabio Giuffrida
2020 P Omar Bassalti, T Ludovica Girardo, S Fabio Giuffrida
2021 P Omar Bassalti, T Ludovica Girardo, S Fabio Giuffrida